I used to have my E-book "The Beautiful Past of Opera" in this store, but the book is undergoing some updates at the moment and will be back soon.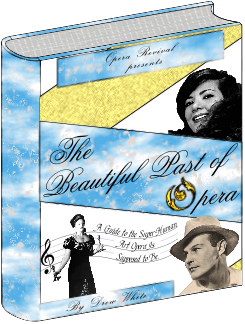 First Interesting Thing to Check Out
As for now, feel free to check out the crowdfunding for my upcoming and hopefully twelve-year masterpiece book "Beauty, Brilliance and Passion Crying Out." Thank you so much and every bit helps to bring this hopefully society changing book to completion! Here are the first two paragraphs of the crowdfunding page for the book that I have also listed here,
"An upcoming masterpiece book unlike any other possibly ever written. A more than decade attempt through all of knowledge to refine its power to make the world a better place; help everyone to reach and excel at expert heights most efficiently even without school; and to list and comment on a very large number of great and notable books, writings, subjects, and expert writings organized to cover an attempt at all of knowledge (with a list informed by going through over 1000 college majors, 23 libraries, and more).
This very unique book could very well help to turn this world around in a giant way. Are you ready? Do you want to lovingly and nonviolently wield knowledge as a crushing weapon against darkness? Come join me and lets us enact this movement to cause Beauty, Brilliance, and Passion to cry out."
Second Interesting Thing to Check Out
Lastly feel free to check out the content at bearenaissanceman.com, drewwhiteddc.com, operarevival.com, and the following social media sites I have listed below. Have a great day!
Rumble:
Youtube: